Hope your Father's Day is just ducky
Making ducks for Father's Day
When my son was a (very verbal) toddler, he noticed that flatulence sounded like a duck quacking. One day, his grandfather was umm, feeling gassy, and did what comes naturally. Nic said loudly and with amusement, "GranDad, you made a duck!" My dad the linguist was enchanted by the phrase, and a lifelong silly inside family joke was born.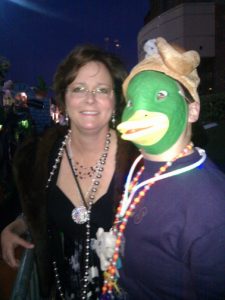 Sometimes, the joke was a mask at Mardi Gras.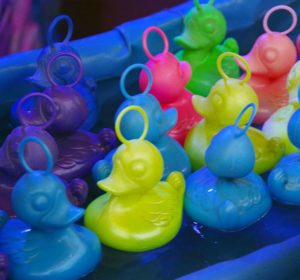 Sometimes, it showed up in other ways, such as this duck-themed jigsaw puzzle I made. But it's been a running joke for well over a decade.
Last month, we visited our little place on Fowl River that's close to where my parents live in Alabama and everything broke – the air conditioner, the boat, the refrigerator, the car, the air mattress. Dad did everything he could to help us fix it all, as he always does.
We knew he'd check the place after we left, especially after all the disasters. So, we bought a seven foot inflatable duck we saw at Walmart. The morning we departed, we inflated the creature, wrote Dad a Father's Day card, and left it waiting for him in the living room.
Ever practical, he says he is going to use it for naps.
Dad's lasting influence
I love you, Dad. Everyone says they have the best dad there is. All I know is that my horizons are limitless because I grew up with a dad who
* Assured me I could do anything I set my mind to and
* Encouraged my brother and me equally at a time when that equal opportunity thinking was not necessarily the norm.
My father, my role model
Aside from his sense of mischief, scatological or otherwise, my father is a great role model because he
* Loves to learn all things, whether poetry, science, math, history or what have you;
* Shows me that a road trip is as much about the journey as the destination
* Demonstrated by his lifelong love affair with my mother that marrying someone who challenges me, lights me up, and I love with all my heart is the only reason to get married.
* Defines success as a balanced, happy life that includes family time; interesting career and life experiences and accomplishments; financial security; a wide circle of friends and acquaintances; being of quiet help to others; and ever-evolving new interests.
Dad, you also suggested – more than once – I be selective and avoid drama. Maybe not overshare. I'm still working on those
🙂.
I sure love you, Dad.
Happy Father's Day to you and all the dads out there who occupy the same special place in their children's heart that you do.Those of us with great fathers never lose our (not inconsiderable) smidgen of hero worship. It's a unique and irreplaceable intersection of love, fun and joy, tinged with more than a little childish awe.